Octubre 7, 2021
Las enfermedades cardiovasculares (ECV), principalmente la cardiopatía isquémica (CI) y los accidentes cerebrovasculares, son la principal causa de mortalidad mundial y un factor importante que contribuye a la discapacidad. Este artículo revisa la magnitud de la carga total de ECV, incluyendo 13 causas subyacentes de muerte cardiovascular y 9 factores de riesgo relacionados, utilizando estimaciones del estudio Global Burden of Disease (GBD)
GBD 2019: 
Es una investigación colaborativa multinacional que estima la carga de morbilidad para cada país en el mundo (1,4). El estudio es un esfuerzo continuo, actualizado anualmente, y está diseñado para permitir comparación constante a lo largo del tiempo de 1990 a 2019, por edad y sexo, y en todas las ubicaciones. El estudio refleja medidas epidemiológicas estándar como incidencia, prevalencia y tasas de mortalidad, así como medidas de resumen de salud, como AVAD. 
Años de vida ajustados por discapacidad: 
Representan la suma de años de vida perdidos prematuramente y años vividos con discapacidad; se puede estimar a partir de tablas de vida, estimaciones de prevalencia y discapacidad pesos; y puede expresarse como recuentos o tasas.
Las actualizaciones anuales del estudio incluyen nuevas enfermedades, nuevas fuentes de datos y actualizaciones de métodos.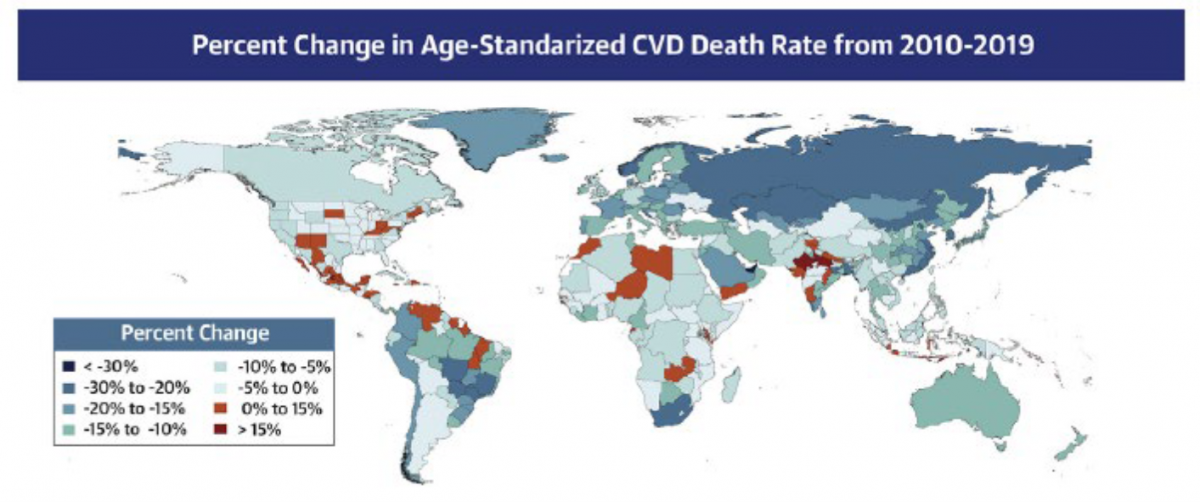 En todo el mundo, el número de riesgo por AVAD entre los 55 y los 70 años de edad tanto para hombres como mujeres, causadas por riesgos dietéticos son más altos en Asia Central, Oceanía y Oriente y Europa y más bajo en Australasia, países de alto nivel de Asia. Las diferencias en las tasas de AVAD estandarizadas por edad entre poblaciones reflejan una compleja interacción entre variaciones en la calidad de la dieta, niveles de exposición a diferentes riesgos dietéticos y acceso a intervenciones dirigidos a los efectos clínicos posteriores de las ECV.
Los efectos detallados de muchos riesgos dietéticos son poco entendidos porque las evaluaciones son obstaculizado por los desafíos de cuantificar con precisión exposiciones y separando los efectos de cada riesgo de los de covariables importantes. Sin embargo, los efectos de los riesgos dietéticos de las enfermedades cardiovasculares siguen siendo grandes si se evalúan como factores dietéticos individuales o medidas de la dieta general calidad, y hay pocas dudas sobre la importancia de los riesgos alimentarios como causa de la carga mundial de morbilidad.
Global Burden of Cardiovascular Diseases and Risk Factors, 1990–2019 Update From the GBD 2019 Study, Gregory A.Roth
Novartis de Colombia SA Calle 93B No.16-31PBX: 6544444. Bogotá, DC Novartis Pharma, AG de Basilea, Suiza® = Marca Registrada. Material dirigido a profesionales de la salud. No se autoriza la grabación o toma de fotografías del material y tampoco difusión por medios no autorizados por Novartis. Mayor información en el Departamento Médico de Novartis SA Colombia: 6544444

[email protected]

. Cualquier información sobre productos que no sean de Novartis se basa en información disponible al momento de esta presentación.
¿Cómo calificaría este contenido?: