Octubre 7, 2021
La enfermedad por coronavirus 2019 (COVID-19) se reportó por primera vez en Wuhan, China, a finales de diciembre de 2019. Desde entonces, COVID-19 se ha extendido rápidamente por todo el mundo y se ha convertido en una pandemia global que afecta a más de 200 países y territorios, con un efecto sin precedentes no solo en salud pública, sino también en actividades sociales y económicas.
El aumento exponencial del número de pacientes con COVID-19 en los últimos 6 meses ha abrumado los sistemas de salud en numerosos países de todo el mundo. En la actualidad, vacunas preventivas y terapias profilácticas para COVID-19 no están disponibles. 
COVID-19 es causado por un coronavirus del síndrome respiratorio agudo severo tipo 2 (SARS-CoV-2), que es miembro del género Betacoronavirus como los otros dos coronavirus que han causado enfermedades pandémicas 
(graves coronavirus síndrome respiratorio agudo (SARS-CoV) y síndrome respiratorio de Oriente Medio coronavirus (MERS- CoV)). Al igual que con SARS-CoV y MERSCoV, SARS- CoV-2 causa una infección respiratoria, que conduce a neumonía viral y síndrome de dificultad respiratoria aguda (SDRA) en algunos pacientes.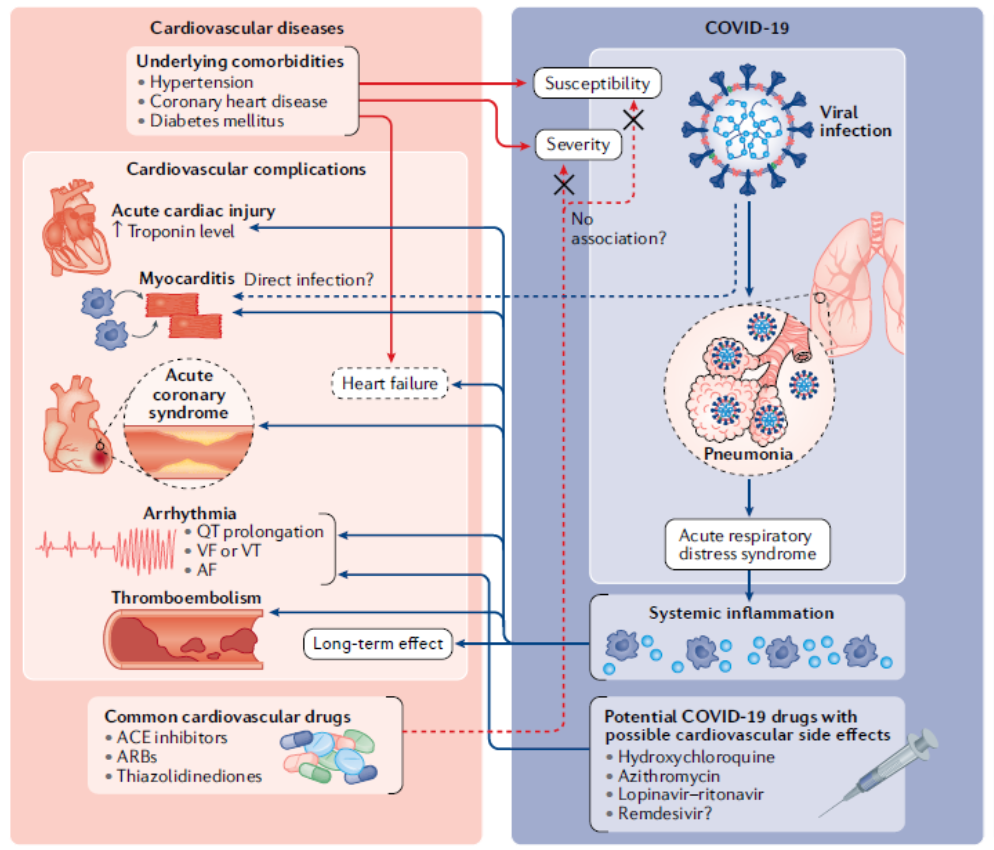 Interacción bidireccional entre enfermedades cardiovasculares y CoVid-19. Comorbilidades cardiovasculares como ya que la hipertensión y la enfermedad de las arterias coronarias se asocian con una alta mortalidad en pacientes con enfermedad por coronavirus 2019 (COVID-19). Fármacos utilizados para reducir el riesgo cardiovascular, como los inhibidores de la enzima convertidora de angiotensina (ECA) y los bloqueadores de los receptores de angiotensina II (ARA) tienen numerosos efectos que pueden influir en la susceptibilidad o la gravedad de COVID-19.
En un informe inicial de 41 pacientes con COVID-19 en Wuhan, 5 pacientes tenían lesión miocárdica con aumento en niveles de troponina I cardíaca de alta sensibilidad (> 28 pg / ml), y 4 de estos 5 pacientes ingresaron en UCI17. En un estudio de cohorte multicéntrico de 191 pacientes con COVID-19, 33 pacientes (17%) tenían lesión cardíaca aguda, de los cuales 32 murieron19. En un estudio posterior de 416 pacientes hospitalizados con COVID-19, 82 pacientes (20%) tenían evidencia de lesión cardíaca, que se asoció con un aumento de 5 en la necesidad de ventilación mecánica invasiva y un aumento de 11 veces en la mortalidad.
Masataka N, et.al., COVID-19 and cardiovascular disease: from basic mechanisms to clinical perspectives, https://doi.org/10.1038/s41569- 020-0413-9
Novartis de Colombia SA Calle 93B No.16-31PBX: 6544444. Bogotá, DC Novartis Pharma, AG de Basilea, Suiza® = Marca Registrada. Material dirigido a profesionales de la salud. No se autoriza la grabación o toma de fotografías del material y tampoco difusión por medios no autorizados por Novartis. Mayor información en el Departamento Médico de Novartis SA Colombia: 6544444

[email protected]

. Cualquier información sobre productos que no sean de Novartis se basa en información disponible al momento de esta presentación.
¿Cómo calificaría este contenido?: